Meet Dr. Patrick S. Hodges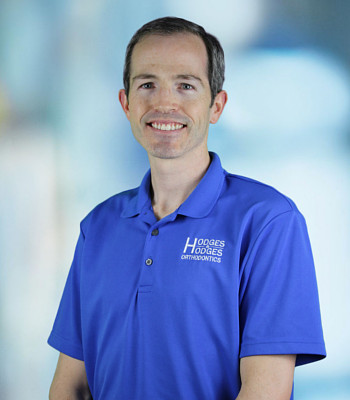 Dr. P. Hodges was born and raised in Amarillo, TX and graduated from Tascosa High School in 2006. He completed his Bachelor of Science in Biomedical Sciences at Texas A&M University in 2010, where he maintained a 4.0 GPA throughout all four years and graduated with Summa Cum Laude honors. Dr. P. Hodges received his Doctor of Dental Surgery degree from Texas A&M University Baylor College of Dentistry in Dallas, TX. He graduated first out of 103 in his dental school class, maintaining a 4.0 GPA throughout all four years of dental school, to barely beat out his twin, Dr. A. Hodges, who received one B+ throughout dental school.
Dr. P. Hodges continued his education at Texas A&M University Baylor College of Dentistry where he received a Certificate in Orthodontics and a Master of Science in Oral Biology. The three-year orthodontic residency is known for being one of the top orthodontic programs in the nation. All of the graduating residents are strongly encouraged to become board certified at the first opportunity after graduation. Immediately after completing residency, Dr. P Hodges completed the requirements and examination to become board certified, which is a distinction held by only 35% of the orthodontists in the United States.
While completing the Baylor Orthodontic Residency Program, residents learn nearly every orthodontic bracket system, appliance, technology, and clear aligners such as Invisalign® 3M Clarity™ Aligners. Dr. P. Hodges is a member of the American Association of Orthodontics, American Board of Orthodontics, Texas Dental Association, and Panhandle District Dental Society. He believes in keeping up to date with the most current technology to treat his patients to the highest standard of care.
Dr. P. Hodges and his twin feel very fortunate to be able to provide board quality orthodontics in their hometown of Amarillo. They are so excited to be in their brand new, state-of-the-art orthodontic office at 5212 Coulter Street in front of their dad's veterinary clinic, Coulter Animal Hospital. They look forward to meeting and treating many of the children and adults of the Amarillo and Canyon and surrounding communities.
In addition to Dr. P. Hodges' dental and orthodontic background, he is very family oriented, which is one of the main factors that brought him back to the Amarillo community. Dr. Patrick's wife is Kathryn Watson of Richardson, TX, who is also in the dental field and worked as a dental hygienist for Dr. Woodburn. They have two amazing daughters: Kate and Hallie. Kathryn and Dr. P. Hodges look forward to being involved in the community and their church. Dr. P. Hodges also enjoys spending time with his wife and daughters, snow skiing, bird hunting, hiking, and mountain biking.
Dental and Orthodontic Awards
American Board of Orthodontics - Board Certified
Alpha Omega Award
First Scholastic Honors Gold Medal
American Association of Orthodontics Award for Exceptional Interest in the Development of the Oro-Facial Complex
William and Jessamine Younger Scholarship in Orthodontics
Dean's Cumulative Honor List
Dr. Richard G. Tollefsbol Award for Excellence in Clinical Sciences
Bernhard Gottlieb Memorial Award for Outstanding Achievement in Oral Pathology
Induction into the Odontological Honor Society and the prestigious Omicron Kappa Upsilon Honor Society